About Laminate Flooring
Frazier's Carpet One Floor & Home in Knoxville has what you need when it comes to laminate flooring. As your local flooring retailer, we are here to help you complete your next flooring project. Our flooring professionals are here to help you navigate our laminate collection and choose the right floor for your home. We offer a variety of laminate options, and we can assure you that there is a floor for your project.
If budget affects your project, then consider laminate flooring as an alternative to hardwood. When laminate first became available there was no mistaking the difference. Advances in manufacturing and digital technology have transformed laminate. Our selection of laminate will surprise you as to how close it resembles hardwood and tile floors.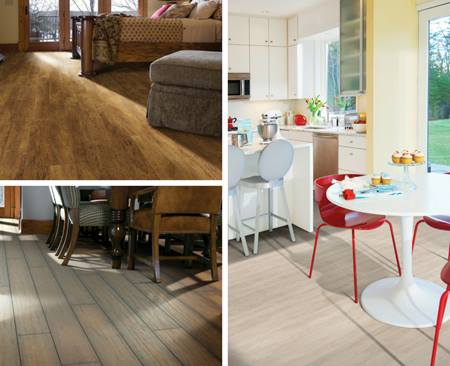 Laminate vs Hardwood
Laminate flooring looks just like hardwood and is easy on your budget. Laminate is made of man-made products, contributing to its low cost. Dents and scratches are less likely to occur in laminated floors compared to hardwood, and they do not need to be refinished! Digital printing technology has come a long way, and even though laminate cannot provide the same value as hardwood, it delivers aesthetic value.
Although laminate may not be entirely waterproof, there are laminate options that are very water resistant. This means you can install laminate floors where you could not install hardwood. Laminate flooring is a great choice for families with an active household. These floors are much easier to care for than regular hardwood, and can handle the occasional spill or mess.
Where Can Laminate Be Installed?
Laminate floors are installed using the floating floor method. A benefit of floating floors is that it is easier to replace if you change your flooring as compared to a glued down product which can require a lot of labor. Floating floors are fast and easy to install, and you can walk on them the same day. Unlike a real hardwood floor, laminate requires less maintenance. Spills should be wiped up immediately and occasional mopping with manufacturer approved products is recommended.
Our Laminate Flooring Selection
When it comes to laminate we carry name brands in addition to our Carpet One Floor & Home exclusive brand Laminate for Life™. Stop by our showroom today to check out our collection.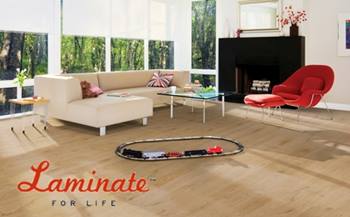 Learn More About Laminate Flooring
Laminate Maintenance

Laminate floors look like hardwood but are much easier to clean. Laminate flooring does not require as much maintenance and can sometimes be more durable than hardwood.
Your Local Flooring Experts
Frazier's Carpet One Floor & Home in Knoxville
It's been our pleasure to serve the flooring needs of the Knoxville area for more than 60 years! We're your family-owned, neighborhood flooring experts. Drop by and let us help you choose the perfect flooring for your particular home and lifestyle. Whether your looking for new carpet, hardwood floors, ceramic tile, vinyl, laminates or area rugs. Frazier's Carpet One Floor & Home has got you covered! Call us today for a FREE in-home estimate.